Weather: 16 degrees, beautiful clear day with stunning mountain views
What I'm listening to: The Story, Brandi Carlile
I'm home! It was great to be back in my kitchen today.
White Pizza is super simple and super delicious. There are only a few basic ingredients and, because of its simplicity, the ingredients really shine. Creamy, salty cheeses, rich olive oil, and fresh garlic all mingle on crunchy thin crust topped with fragrant, fresh basil. Your pizza-eating habits may experience a paradigm shift with this recipe. Just a heads up.
Thin Crust White Pizza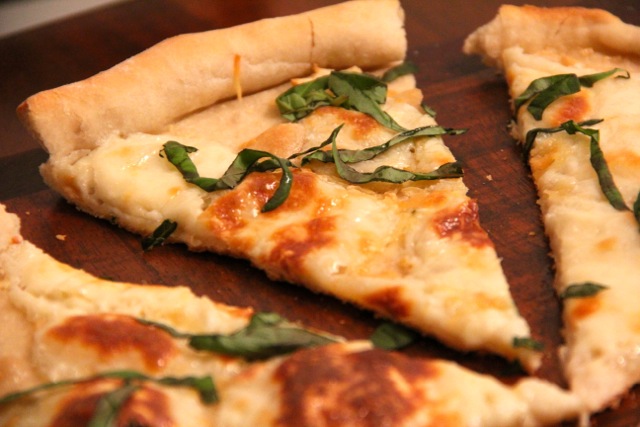 Adapted from [The Curvy Carrot|http://www.thecurvycarrot.com/2011/07/06/four-cheese-white-pizza-and-a-blog-anniversary/]
Yields: 1 standard-size pizza
For Pizza Crust:
3/4c warm water
1t yeast
2c flour
3/4t salt
1T olive oil
For Pizza:
3T olive oil
3 cloves garlic, chopped
8 oz (1/2lb) fresh mozzarella, sliced (you can find fresh mozzarella in the specialty cheese section)
2T grated parmesan
3T fresh basil, rolled and thinly sliced
!For Pizza Dough:
Combine yeast in a cup with warm water. Stir and allow to sit, 5-10 minutes.
Meanwhile, in the bowl of a stand mixer, add flour and salt. Using the dough hook attachment, turn on mixer and add yeast/water mixture and olive oil to flour and salt and mix until dough forms a ball. If dough is too sticky, add flour by the tablespoon. If dough is too dry, add more water by the tablespoon. Knead the dough on low speed for 5 minutes. Cover dough with a towel and allow to rise in a warm place until almost double, 1-2 hours.
!For Pizza:
Preheat oven to 450. Grease your pizza pan with olive oil (I use a pizza pan with holes in the bottom).
Carefully turn out pizza dough onto a floured work surface. Dust top of dough and rolling pin with flour. Roll dough until thin and round and just slightly larger than the size of your pizza pan. Fold pizza dough in half, then in half again and transfer to pizza pan. Unfold and shape edges for crust, removing any excess dough.
In a small dish, stir together the chopped garlic and olive oil. Pour garlic olive oil onto pizza dough and spread evenly to coat. This serves as the "sauce" for the White Pizza.
Next, place the sliced mozzarella on the pizza followed by sprinkling on the parmesan cheese.
Bake for about 18 minutes until cheese and crust are golden. Immediately top with fresh basil. Slice and serve.