Weather: 57 degrees, lots of rain
What I'm listening to: the slosh of the washing machine
A lot of times I get recipe inspiration while trying a dish at a restaurant or in someone's home, because that flavor gets wrapped up in the fullness of a moment and becomes a food memory – that place where ingredients come together with company and conversation, seasons and senses, making something altogether new. This sort of recipe inspiration can stick with me for months and even years, because in developing the recipe and making the dish, I attempt to go back in time and recapture something, recreating not just flavors, but feelings.
I once had crispy fried wontons stuffed with cream cheese, crab, and green onions with a side of Thai sweet chili sauce. The inspiration stuck with me. I should try to duplicate this dish, I thought, writing an invisible recipe in my mind as I taste the food. More green onions though. Bite…. Chew…. Maybe more crab. Swallow. Reach for another with my chopsticks. I don't think I've ever done a crab recipe. Search for my napkin. How can that be? What kind of Alaskan are you? Smile.
Crab & Cream Cheese Wontons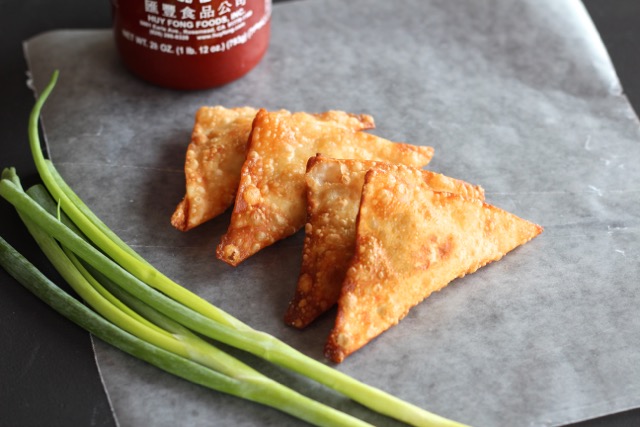 Crisp golden wontons stuffed with a decadent crab and cream cheese filling. Also known as crab rangoon.
Yields: About 24 wontons
6 ounces lump crab meat, drained
6 ounces cream cheese, softened
1 clove garlic, minced
2 green onions, thinly sliced
2 teaspoons sesame oil
salt to taste
24 wonton wrappers (2 -inch square)
2 cups vegetable or canola oil, for frying
In a bowl, stir together the crab, cream cheese, garlic, green onions, sesame oil, and salt until combined.
To assemble the wontons, place a shallow bowl of water on your work surface. Take one wonton wrapper, dip the tip of your finger in the bowl and wet two edges of the wonton wrapper. Place 1 1/2 teaspoons of the crab filling into the middle of the wrapper. Fold the wrapper over into a triangle and seal the edges securely. Repeat with remaining wrappers and filling.
Heat the oil in a dutch oven over medium-high heat. Add the wontons to the hot oil, working in batches, and fry 1-2 minutes until golden and crispy. Transfer to paper towels to drain. Repeat with remaining wontons.
Serve promptly with Thai sweet chili sauce, Sriracha, or soy for dipping.