I'd like to hope that we enter into each new year with a sense of optimism and possibility. We get a clean slate, a fresh start, a blank page on which to leave our mark. Now that it's 2017, I am excited to share with you a bit of important news:
I AM WRITING A COOKBOOK!!!!!
I can't believe I even just typed that. You guys… gah. My forthcoming book, 
Alaska from Scratch, 
will be published in 2018 by Rodale Books. This has been a dream of mine for quite some time and I can hardly believe it's becoming a reality. A huge thank you to you, my readers, for your encouragement along the way. Thank you for reading my blog and my food column and for inviting me into your kitchens and your lives these past 5+ years. Your readership and support has helped make this cookbook possible. I'm looking forward to continuing to cook and eat along with you in 2017.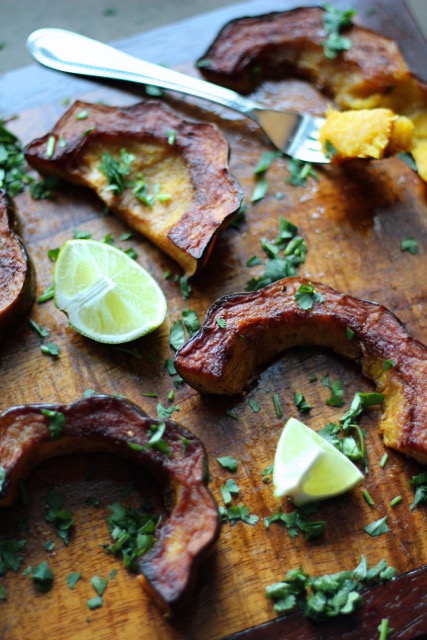 In anticipation of my book, I've been reading Maria Rodale's own cookbook, Scratch. In her book, she has a recipe called "Maya's Spiced Roasted Squash" inspired by her firstborn daughter, Maya. I knew immediately that this had to be the first recipe I tried, as it literally had my name written all over it.
I was intrigued by her suggestion of combining smoky cumin with warm cinnamon as the spices on this dish. I imagined the flavors coming together in my mind with the sweetness of the winter squash – I chose acorn for the lovely scalloped edges – and I wasn't disappointed when the unexpected combination made my entire house smell like heaven. I removed the caramelized squash from the oven, all glistening and browned, and transferred it to my wood board, where I squeezed a little citrus over top (Maria likes to use lemon, I went for lime), sprinkled it with freshly chopped cilantro (flat-leaf parsley would be nice if you're using lemon). I used a fork briefly, before just picking the squash up with my fingers and contentedly nibbling away. This would make a nice appetizer or you can serve it as a lovely side dish with roasted chicken, as Maria likes to serve hers.
I'm excited for what 2017 has in store – wonderfully terrifying, vulnerable, hard-fought, dream-fulfilling things. Together, let's make this year unforgettable.
Spiced Roasted Acorn Squash
Recipe adapted from Scratch by Maria Rodale.
Yields: 4 servings
1 acorn squash
3 tablespoons extra virgin olive oil
1/2 teaspoon cumin
1/2 teaspoon cinnamon
1/2 teaspoon salt
pinch of cayenne pepper
lime wedges, for serving
finely chopped cilantro, for serving
Preheat oven to 400 degrees. Line a baking sheet with parchment paper. Cut the ends off of the acorn squash then cut the squash in half length-wise. Scoop out the seeds with a spoon and discard. Using a sharp knife, slice the squash into half moons, about 3/4 inch thick.
In a bowl, stir together the oil, cumin, cinnamon, salt and cayenne. Toss the acorn squash in the spiced oil mixture to coat. Place the squash onto the prepared baking sheet. Roast in the preheated oven until tender and caramelized, 20-25 minutes. Transfer the squash to a serving platter and serve with lime wedges and chopped cilantro. Serve promptly.
SaveSave