Weather: 12 degrees, sunny
What I'm listening to: birds chirping outside, signaling spring is near
Soft-boiled eggs will forever remind me of my grandma Susan, who often served them for breakfast. She always brought them to the kitchen table with the shells still intact. As a young girl of about six or seven years, I would struggle to get the egg open, often getting impatient, breaking the delicate whites, or worse yet, getting shards of shell in my breakfast. Meanwhile, grandma would have hers expertly cracked in no time and be savoring every last drop of the runny yolk with buttered whole grain toast. I didn't understand how she did it.
Soft-boiled eggs have been making a culinary comeback in recent years, like a vintage classic given new life. However, home cooks tend to be as intimidated of them as poached eggs. I get it. I've been intimidated of them my entire life. Here's what I do: I like to place my cold eggs into a pot of cold water. I bring the water to a boil, remove the pan from the heat, cover it, and set a timer for three minutes. Then, I drain the water and replace it with cold water to slow down the cooking process. To peel the soft-boiled eggs, I like to start at the bottom, cracking the widest part of the egg first, and carefully working my way to the top.
Like my grandma, I'm serving my soft-boiled eggs with toast to soak up all the beautiful yolk, but I've gone with a crusty French bread, rubbed with a garlic clove, then buttered. Then, because it's now officially spring (although one cannot tell by the current temperature!), I've added lemony asparagus tips, quickly roasted under the broiler. I know that grandma Susan would be more than pleased with this green, springtime version of her old standby.
Soft Boiled Eggs with Asparagus on Toast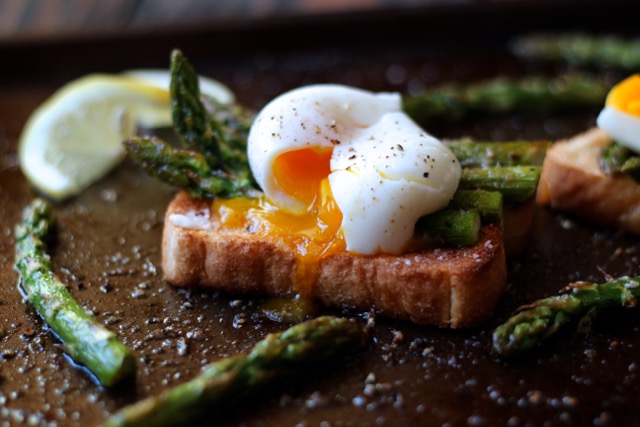 Yields: Makes 2
2 eggs, soft-boiled and peeled
8-10 asparagus tips
1 tablespoon extra virgin olive oil
1 teaspoon lemon zest
sea salt and freshly cracked black pepper
2 slices French bread, toasted
1 garlic clove, sliced
1 tablespoon butter
lemon wedges
Preheat the broiler to high. Place the asparagus tips onto a rimmed baking sheet. Drizzle olive oil over the asparagus, sprinkle on the lemon zest, and season the tips generously with salt and pepper. Toss to coat. Broil the asparagus until tender-crisp and beginning to brown and sizzle, about 6-8 minutes, stirring once halfway through.
Meanwhile, rub the warm toast with the interior of the sliced garlic clove until fragrant. Butter each slice of toast. Place 4-5 asparagus tips on top of each slice. Gingerly nestle the soft boiled eggs on top of the asparagus. Season the eggs with more salt and pepper. Slice the eggs on one side with a sharp knife to allow the yolk to run. Serve promptly with lemon wedges.