Weather: 20 degrees, fresh snow
What I'm listening to: Have Yourself a Merry Little Christmas, Sam Smith
Fudge is a holiday essential. As people gather around the array of cookies and confections, there are those of us who clamor for the fudge. Families often have their secret recipes that they keep hidden, only bringing them out around Christmas. Many of these recipes are labor intensive, involving candy thermometers, sticky marshmallow fluff, and seemingly endless stirring. Much can and often does go wrong with these traditional recipes. If the fudge doesn't get to the correct temperature, you either end up with lumpy fudge soup or fudge that's so firm it's better used as a hockey puck at the ice rink.

This is my quick and easy chocolate fudge recipe. It's a holiday go-to, particularly when I have to whip up something to take to a festive party or to give as a food gift to friends or neighbors. This simple fudge only has three ingredients – sweetened condensed milk, chocolate morsels, and butter. I've melted them together both on the stove top and in the microwave, with great results both ways. I love to spread my fudge into a tart pan with a removable bottom for easy removal and slicing, not to mention the lovely scalloped edges. I made this peppermint dark chocolate batch by sprinkling crushed candy canes on top. It's also delicious with milk chocolate morsels, walnuts, and mini marshmallows for a rocky road version.
Quick & Easy Fudge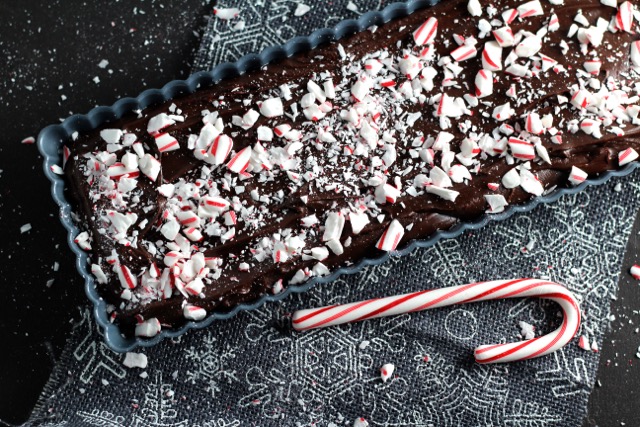 Yields: 24 squares
1 (14 ounce) can sweetened condensed milk
2 cups semisweet chocolate morsels
1 cup milk chocolate morsels
1/4 cup butter
3 peppermint candy canes, crushed (optional)
Spray a 14x5 tart pan with non-stick spray.
Add the sweetened condensed milk to a saucepan. Put the chocolate morsels and butter on top of the sweetened condensed milk. Place the saucepan over medium low heat. Using a wooden spoon, stir until the fudge is melted and smooth. Spread the fudge evenly into the prepared tart pan. Sprinkle the fudge with crushed candy canes, if using.
Refrigerate until set, then remove the fudge from the tart pan by pressing up from the bottom. Slice the fudge in bite-sized squares. I like to store my fudge in a covered tin in the refrigerator.