Weather: 60 degrees, steady rain
What I'm listening to: Disney Channel
During fishing season, I get a lot of requests for salmon and halibut recipes. I think back to all the summers past, scanning through the recipe box in my mind of flavors and fish and food memories. I remembered the very first halibut recipe I ever wrote back in 2011. It was halibut in a lemon caper pan sauce, my Alaska version of a classic Italian piccata. We were fortunate enough to receive some freshly caught halibut as a wedding gift recently from not one but two people, so I was eager to revisit this old recipe and give it new life.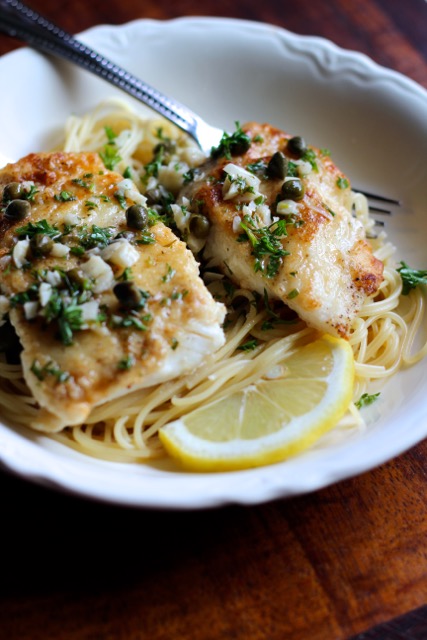 Giving the halibut a quick dredge in flour before cooking it in a hot pan swirled with olive oil allows it to get a beautiful golden crust. In my original version of this recipe, I used chicken broth as the base of the pan sauce. This time, I used a nice chardonnay to deglaze the pan. Both work nicely, so feel free to interchange them according to what you have on hand. The real hero of the dish is the briny caper that studs every lemony, garlicky bite of halibut tangled together in angel hair pasta.
Halibut Piccata over Angel Hair Pasta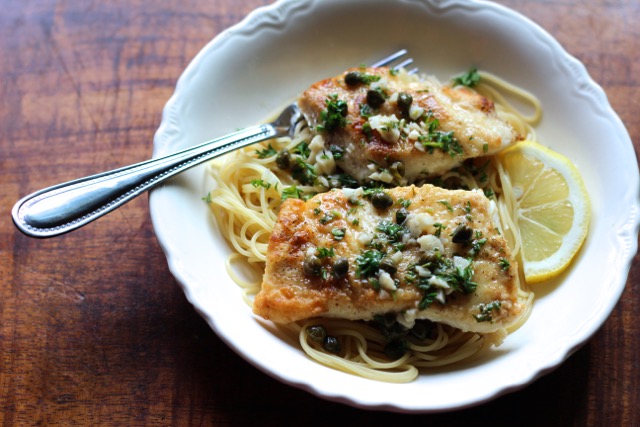 Yields: Serves 2-4
1 1/2 - 2 pounds halibut (cut into about 6-8 smaller portions), skin removed and deboned
1/3 cup flour for dredging
salt and pepper
2 tablespoons extra virgin olive oil
1/2 cup white wine, like chardonnay (or chicken broth)
3 tablespoons butter
2 cloves garlic, minced
2 tablespoons capers, drained and rinsed
1 tablespoon fresh parsley, finely chopped
Juice of half a lemon
8 ounces angel hair pasta, cooked al dente according to package directions
Heat oil in a large non stick skillet over medium high heat.
Pat the halibut fillets dry with paper towels. Season both sides of each fillet generously with salt and pepper.
Place the flour in shallow dish. Dredge the halibut lightly in flour mixture and place in hot pan.
Sear the halibut until golden, about 3 minutes. Turn and cook until other side is golden, being careful not to overcook. Remove the halibut to serving plate and allow to rest.
Deglaze the pan with white wine. Melt the butter in the wine and then add the garlic, capers, and parsley. Simmer 2 minutes. Turn off the heat. Add the lemon juice to pan and stir to combine.
Divide the pasta between shallow pasta bowls. Top each portion of pasta with halibut portions. Pour the pan sauce evenly over each plate, spooning the capers, garlic and parsley onto the fillets. Serve immediately.
SaveSave
SaveSave