Weather: windstorm, had the first power outage of the season earlier today
What I'm listening to: wind howling, trees swaying
I wanted some good homemade bread to make my Garlic Cheese Toasts to go along with my Tomato Cheddar Soup a couple of weeks back. I decided that I would try my hand at some French Bread. Having never made it before, I did a little online research and hunted around the food blogosphere to see what other bloggers had done. I picked up ideas here and there and formulated a plan as to how I would attack this French Bread without a professional oven, bread machine, stoneware baker, or pizza stone (to name a few of the many methods out there).
I used my conventional oven, a large inverted baking sheet preheated to 450 degrees, and a half a cup of water thrown into the oven to create steam. Voila! Two lovely crisp, chewy, fresh French loaves. Just a quick note about the size of the loaves – they are ideal for serving bread and butter with dinner, making garlic bread, or cheese toasts (and numerous other delicious uses). However, I wouldn't say that these loaves are big enough to be used as sandwich bread. Just a heads up.
French Bread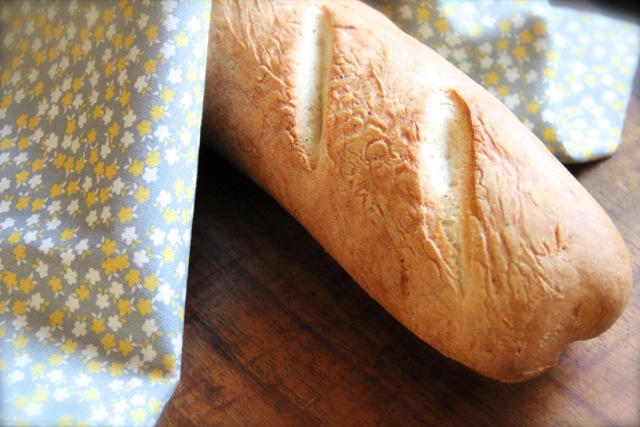 Adapted from [Steamy Kitchen|http://steamykitchen.com/75-baking-the-perfect-loaf-of-french-bread.html]
Yields: 2 medium loaves
4c bread flour (all-purpose can be substituted)
2t salt
2t yeast
1-1/2c warm water
In the bowl of a stand-mixer fitted with the dough hook attachment, add the warm water (just above body temp) and yeast. Stir to combine. In another bowl, stir together 3-3/4c of the flour (reserving 1/4c) and the salt. Turn mixer on low speed and pour the flour/salt mixture into the yeast/water mixture gradually. Turn mixer up to medium speed and mix for 3 minutes. Dough should pull away from the sides of the bowl and form a ball. If it's too sticky, add more flour by the tablespoon until it comes together.
Dust a clean work surface with the remaining 1/4c of flour. Turn dough out onto the surface and knead until elastic and smooth. Form into a ball. Place dough into a greased bowl and cover. Allow to rise in a warm place for 90 minutes.
Preheat oven to 450. Place a large inverted baking sheet into the oven to preheat.
Turn dough out onto floured work surface, punch down, and form into a ball. Cut the ball in half. Shaping one half at a time, spread the dough into a rectangle, then fold the rectangle inward onto itself length-wise to form a long loaf. Pinch the edges together to form a seam. Turn seam-side down. Repeat with other half. Cover and let rise another 30 minutes.
After 30 minutes, take a sharp knife and cut shallow slits diagonally across the tops of the loaves.
Have 1/2c of water standing by. Remove the inverted baking sheet from the oven. Carefully place your loaves onto the hot pan. Place the pan on the center rack of the oven. Just as you are about to close the oven door, toss the 1/2c water onto the oven floor (bottom of oven). Close the door immediately. Bake 20-25 minutes.